Set up your MyCFCC password
Your MyCFCC login gets you on the Library's computers and lets you access electronic resources from off-campus.
Go to WebAdvisor.
Be prepared with your ID number and an idea for an 8-digit password that includes a mix of upper & lower case letters and numbers.
Come to the CIRCULATION desk and request Reserve items by your BIO course number.
Most items check out for two hours, in-Library use.
Search the CFCC Catalog (Encore)
When the Library Is Closed . . .
• Follow the "Research Guides" link to see suggested search strategies for your academic program, or for general topics such as avoiding plagiarism or evaluating web resources
• Choose "Ask a Librarian" to email your question to the CFCC Reference staff
• Can't wait for an answer? The "NC Knows" link takes you into a live chat with a research librarian who will help with your question and forward it on to CFCC for follow-up the next business day if you would like.
RECENTLY ADDED in the Library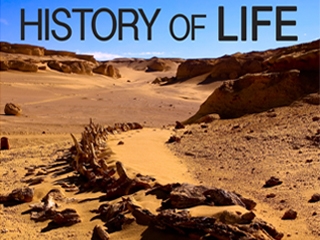 History of Life DVD series
Call Number: DVD QH 125 .H57 2013
Vols. 1-5
Vol. 1 - Plants, Earth's Quiet Rulers
Plants, the oldest form of life on earth hold many mysteries. While plants are often thought of as passive, we will see how many species have adopted aggressive strategies that have allowed for their survival. It is these "quiet rulers" of earth that are not only the foundation of the global ecology, but also the spring from which all life flows.

Vol. 2 - The Story of the Feather
Feathers play an important role in evolution. Originally providing insulation they eventually led to flight. In The Story of the Feather we chronicle how the fossil discovery of the Chinese reptilian wing, a four-winged dinosaur with primitive wings, has provided evidence that dinosaurs gradually evolved winged feathers, ultimately becoming the birds that we are familiar with today.

Vol. 3 - The Landing
Life, which first inhabited the seas and then land, is an amazing story. Through investigation of ancient trailblazers such as Tiktaalik, we learn the gradual process by which lungs and legs evolved, and how the creatures of the seas eventually conquered the land. Reverse evolution, from land to sea, is also presented.

Vol. 4 - Mating – The Search for the Other Half
One of the most profound mysteries in the world, love between males and females, is explored. What was the evolutionary impetus which gave rise to love? Through an experiment involving the chlamydomonas, we recreate the fateful moment 25 billion years ago when genders first appeared.

Vol. 5 - Extinction – An End and a New Beginning
Mass extinctions have shaped and reshaped the landscape of life on earth throughout its history. In this program we chronicle the history of mass extinctions and their effect on evolution. We learn that these events not only destroy life, but also create the fertile ground from which life can take root again